Several dozen people have died after
Myanmar
's army shot at and sank boats carrying its own kidnapped troops, ethnic rebels have said.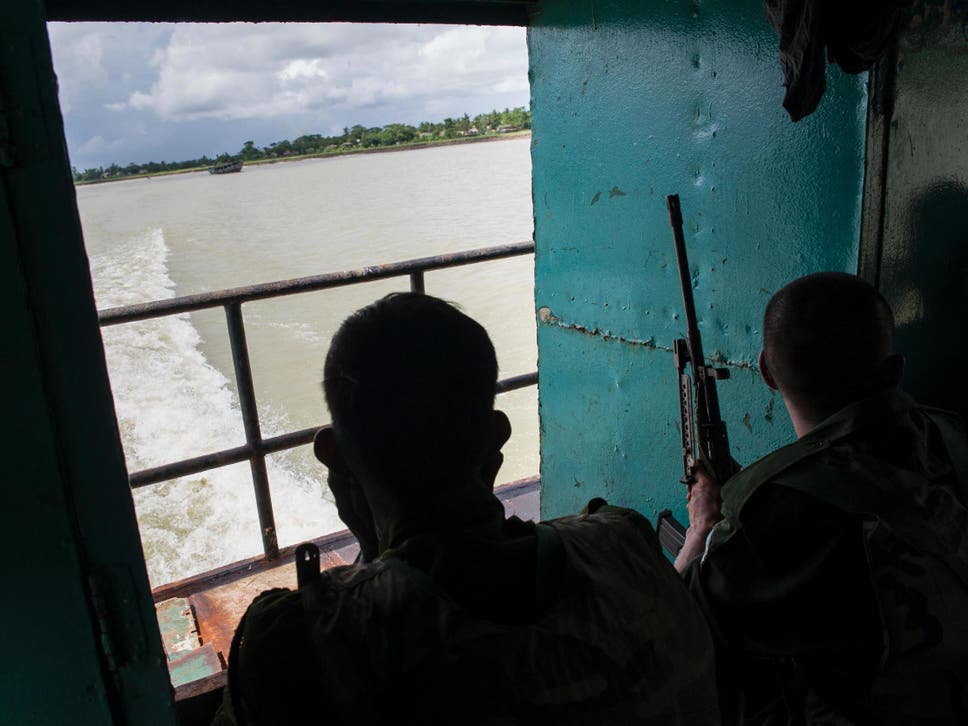 The
Arakan Army
, a insurgent group in the turbulent
Rakhine
state, said government forces had opened fire on three of its vessels carrying abducted soldiers, police and civilian officials
Myanmar's information ministry confirmed 58 people had been taking hostage by about 30 Arakan fighters who boarded a ferry carrying 165 civilian passengers and about 50 off-duty security personnel from Rakhine's capital, Sittwe, on Saturday.
The rebels, lying in wait by a riverbank, shot at the ferry and forced it it to dock before abducting at least 10 soldiers and 30 police officers, a military spokesman said.
On Sunday three boats carrying the captured personnel were attacked by three government helicopters, sinking two of them, according to the Arakan Army.
It said rebels and their captives were killed in the clash, which was not mentioned by the information ministry statement and could not be immediately verified.
The Arakan Army is one of several ethnic minority groups demanding greater autonomy for
Rakhine state
, where the government has deployed thousands of troops to suppress insurgents after nearly a year of fighting.
Tens of thousands of people have been displaced by clashes between government forces and rebels since December last year.
The UN and independent monitors say human rights violations have increased as the the Myanmar army battles the Arakan rebels, with government forces blamed for most - but not all - of the abuses.
The army and other security forces were accused of major abuses, including the organised rape, murder and the burning of villages during a crackdown on
Rohingya
insurgents in 2017 that forced 730,000 of the Muslim minority to flee the country to Bangladesh.
While Rohingya rebels have been largely inactive since late 2017, the Arakan Army has an active alliances with several other armed ethnic rebel groups, helping it keep the government off-balance by staging joint attacks in other areas of the country.
In August, it staged coordinated attacks with allies at five locations, including a military academy outside normal combat areas, where a civilian was killed and a soldier wounded.
The latest escalation comes less than a fortnight after suspected rebels disguised as sports players stormed a bus and took dozens of firefighters and civilians hostage.
The UN expert on human rights in Myanmar, Yanghee Lee, has previously speculated that both sides may be committing war crimes.
Additional reporting by agencies
Ref: Independent UK