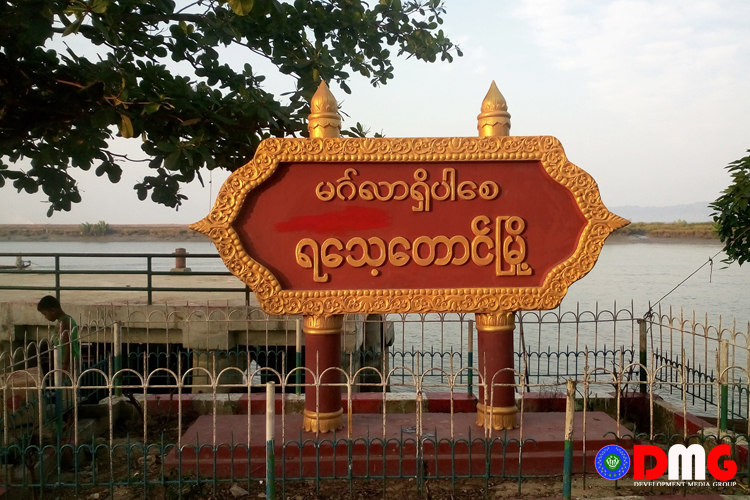 Khaing Roe La | DMG
November 24, Sittwe
An artillery blast burned down some houses in Amyat Taung village in Rathedaung Township, Arakan State.
An anonymous resident from Nga/Sanpaw village said that he witnessed artillery firing from the Tatmadaw's 537 unit camp near Rathedaung town. The munitions landed and exploded in Amyat Taung village at around 6 p.m. on November 23 and burned some houses.
"The Tatmadaw unit was shooting off weapons all day. Actually, there is no fighting near that village and I can see houses ablaze now but I am too afraid of going there to check it out," he said.
The residents left their houses after 11 houses were torched at Amyat Taung village on July 5. But some returned to their village to harvest their paddy.
On November 22, a stray artillery shell landed in the village and killed one villager and injured another person. That accident forced all returnees to leave the village again.
"We heard that one house burned down yesterday. Nobody lives in the village at the moment and we haven't gone and checked it yet. So it is hard to say whose house is destroyed," an anonymous resident from Amyat Taung village said.
The head monk of Amyat Taung monastery said that he heard that some houses near the monastery were destroyed in fire.
"I heard that artillery firing from Rathedaung that exploded in the village. We don't know yet whose houses are destroyed," the monk said.
The Arakan Army (AA) stated that the Tatmadaw has been attacking with artillery weapons for a while from its Rathedaung camp, and the AA attacked a Tatmadaw unit coming down from that camp on November 23, and at least 4 Tatmadaw soldiers died during that attack.
The AA added in the statement that the Tatmadaw fired its heavy weapons towards Amyat Taung village after its attack and artillery shells landed and exploded in the village and destroyed a house.
DMG tried to contact Colonel Win Zaw Oo from the Western Command about AA's statement, but he was indisposed.
The AA attacked the Tatmadaw's LIB (Light Infantry Battalion) No. 536, 537 and 538 forces camping near Rathedaung town with rockets at the same time.
Locals nearby villages and the AA said that the Tatmadaw fired its heavy weapons everyday but the Tamadaw denied it.