Narinjara News, 15 February 2020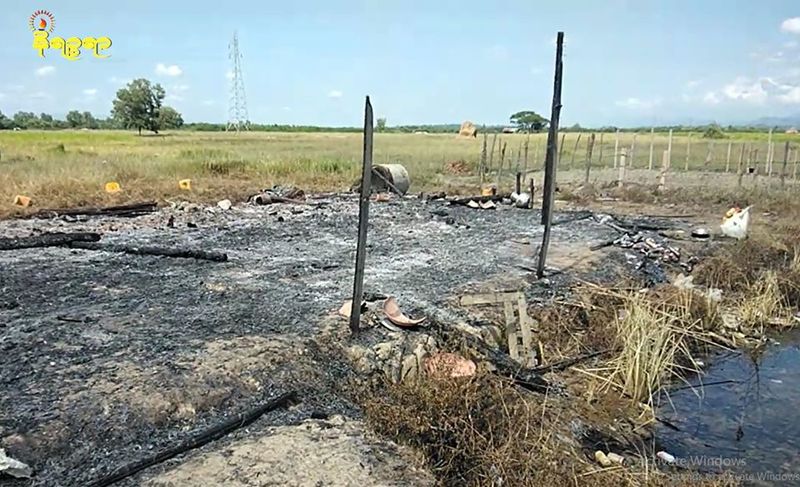 Several families at Thami Hla (old) village under Rathidaung township, 20 miles north of the capital city of Sittwe faced a huge property loss as 15 houses caught devastating fire on 8 February.

The fire broke out when all villagers left their places because of security reasons as a column of Myanmar Army arrived there for a temporary stay.

"We apprehended the clash in our village after the security personnel stationed here. So we preferred to leave our village. Most of villagers went to Rathidaung down town IDP camps to take shelter.

Once the soldiers left we arrived back in our village yesterday. We found that 15 houses were destroyed," said U Thein Maung, one of the affected villagers.

Villagers believed that some soldiers set those houses on fire. But the army authority has denied such allegations with a statement issued on 11 February. It accused Arakan Army (AA) of the crime.

However, AA spokesperson Khaing Thuka denied the accusation and asserted to Narinjara over telephone that it was committed by Myanmar Army personnel themselves.

"As it is the harvesting season villagers put their crops in their houses. Along with the houses the produces were also destroyed in fire. I also lost over 1000 baskets of paddy stored inside our house. It is a huge loss for me," added U Thein Maung.

Now over 100 villagers are homeless as their houses were already burnt down. Families of U Thein Tun Maung, Daw Win Tha Sein, U Maung Aye Thein, Maung saw Win, U Kyaw Win, U Maung Thein, Daw Ngwe Kyan Sein, U Saw Hla Paw, U Thun Muang Thein, U Maung Tun Hla, U Saw Thein Aung, UKyaw Win, U Hla Kyaw Zan, U Hla Sein Tun etc rendered homeless.

A house at Rakondai Kon Dan village with others also caught fire. Villagers stated that many domestic animals were killed in the incident incurring s huge loss to the villagers.