Narinjara News, 15 February 2020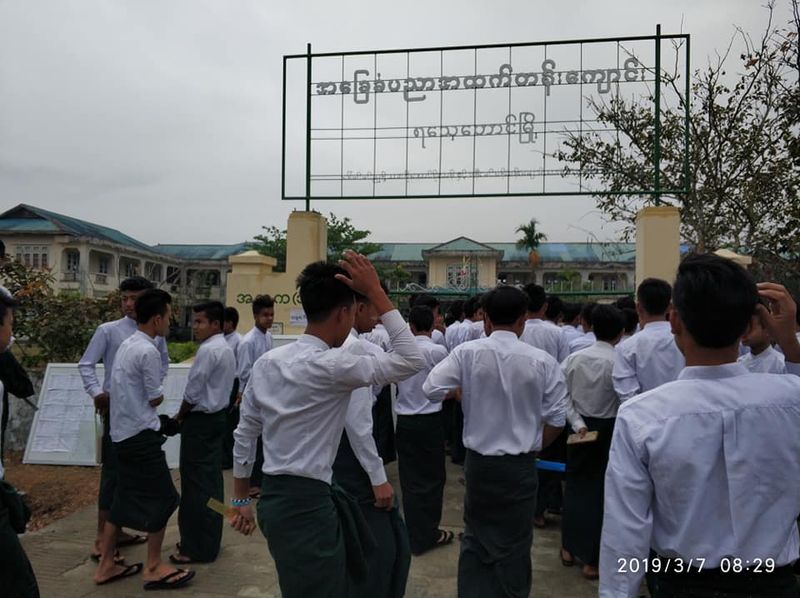 At least 20 Matriculation examination centers under nine townships of Arakan State in western Myanmar have been affected by the ongoing conflicts between Myanmar Army personnel and Arakan Army members.

Those centers were scheduled to host the important examination from 11 February to 18 February, but now the authority has cancelled it due to security.

Rakhine State education department has submitted a letter to Arakanese government in Sittwe asking to avoid these 20 centers, said U Tin Thein, chief of the education department.

"Primary reason is the security. Without it, examinations should not be organized here. Last time, we faced a difficult situation as the police outposts were moved to other places during the examination period. We do not want a similar situation again," added U Tin Thein.

The exam centers to be closed by the authority are adjacent to the battle fields under the townships of Kyauk Pru, Ann, Maebon, Min Bya, Mrauk U, Kyauk Taw, Ponna Kyunt, Rathidaung and Buthidaung. Two centers fall in Long Chaung and Kyauk Tan villages under Rathidaung township.

A local guardian commented that the rich people can afford to send their children to a distant place also, but for the poor families it would be an expensive exercise. If they have to go to a distant place, the families have to spend a lot of money for transportation, foods
and even accommodation, he added adding that many poor families would not be able to send their children for examination.

U Khin Maung U, headmaster of a primary school informed that some village leaders and school teachers from Long Chaung village had already left for Sittwe to meet the education department authority pursuing not to cancel those centers.

However, Rakhine State education department chief U Tin Thein commented that it would be a difficult job for them to conduct the tenth standard major examination without proper security arrangements and hence it was decided to write to the State government for cancelling those centers.