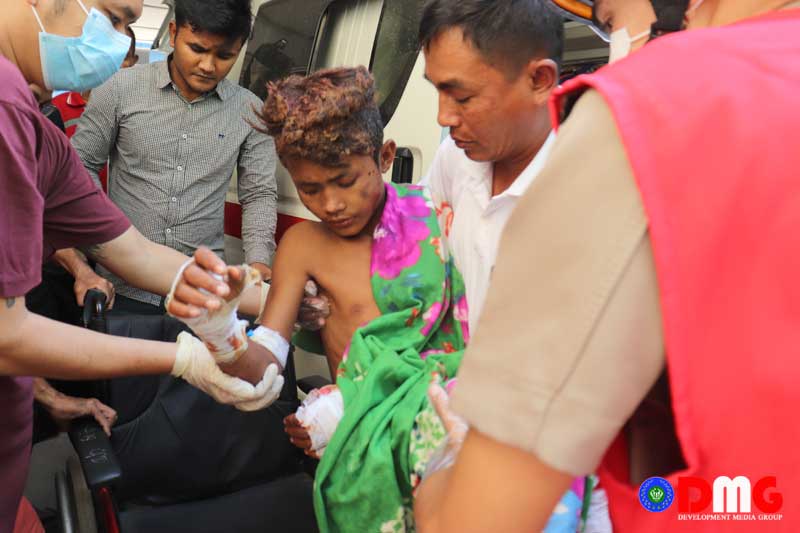 Hnin New | DMG
March 24, Minbya
A child from Chae Taung (Chin) village was killed and 15 people were injured due to fighting on March 23 near Kanni village in Minbya Township, said Salai Tun Hla Kyaw, chairperson of the Chin University Students Group in Arakan State.
Locals said an artillery shell landed at around 2 p.m. in Chae Taung village, about one mile from where the fighting flared.
"An artillery shell landed in the village and exploded. Three families were hiding under their houses at the time. The blast happened near them and they were injured. All three houses also got burned," Salai Tun Hla Kyaw said.
The blast injured 16 civilians and one of them, 10-year-old Maung Bi Tin, died at Minbya Hospital the following morning.
The injured range in age from 18 months to 54 years old. All but two are receiving medical treatment at Minbya Hospital, with 47-year-old U Zani Aung and 13-year-old Mg Nay Tun Linn sent to Sittwe General Hospital due to the severity of their wounds.
According to the Tatmadaw, about 300 AA soldiers attacked the training school with small arms and heavy weapons from four different positions. When the Tatmadaw launched its counterattack, all of the AA soldiers withdrew in small groups at around 11 a.m., leaving behind the bodies of soldiers killed in action and some weapons.
The AA stated that its forces were able to attack the training school effectively in a short time and torched some of the buildings. The ethnic armed group said that around 20 Tatmadaw soldiers were killed, and its forces seized a soldier and some munitions.
The AA mentioned in the statement said that although its forces were able to control most parts of the training school, they failed to seize the arsenal where weapons were stored due to continuous attacks by Tatmadaw fighter jets and helicopters.
https://www.dmediag.com/news/1321-mb-bte-1d-15inj